I learnt a new Spanish phrase today, from @LearnSpanishSCR on Twitter! Forgive me, I'm still in a half-assed mood of learning it! French as well.
All that Glitters is not Gold:

No todo lo que brilla es oro(SPANISH)
At least, I think that's what it means! :x I'm real elated today! My Twitter page finally reached the 70++ count of followers, and I previously thought it could never get beyond 50... However, I doubt it would keep up though, knowing my luck. When I went to work just several hours ago with my mother, and we were in a convenience store, I pulled up a copy of Popstar! magazine and asked if I could buy it. So the conversation went like this:
Mother: You've got your own money, I've given you the $15 the other day.
Me: *Jaw drops literally* No...! You haven't given it to me. You don't remember? *Eye roll here*
Mother: I KNOW I gave you the $15.
Me: You DIDN'T.
It goes on. Few seconds later...
Me: Never mind.
Mother: So do you still want to buy the magazine?
Me: No! *loud enough for the cashier to look over at us (MYOB lady!)*
Mother: I really gave it to you. YOU don't remember!
Me: *storms out of the store*
In the end, she handed me the 15 bucks anyway. I wasn't being mean, and I'm not gonna try to defend myself here. But I

TRUTHFULLY

didn't get that money from her! I don't forget money that easy ;)
And goddamn it. Before I went out to work, I fed my two hamsters as usual. Sunflower seeds, nuts and vitamin C. I picked Pudding up

DELICATELY

but she went ahead and bit me

HARD

anyway on my palm. I tried shaking her off and she bit my ring finger then. Thank goodness Mochi doesn't bite anymore. She used to. Not lovin' Pudding as much as Mochi now! There's still a friggin' gash on my finger too. How do you train hamsters to be obedient?
Anyway, speakin' of hamsters, I got some pretty awesome, talented ones here! Enjoy the cute-ness these little critters just ooze full of!
ABOVE: I can't see what they're doing here? Fishing out?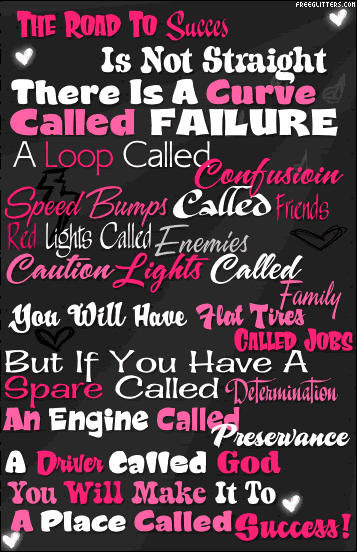 ABOVE: Another awesome graphical quote!
Share