I got these pictures sent by Billy Jo of
http://billysbirdhouses.webs.com/
, and I made them into an animated GIF, so it turns out like a story play! Here is the reformed animation (uploaded it to Photobucket so it could be posted here animated!), made out of nine photos! Too cute! Look at the adoration the kitty has for the keet (lorikeet)!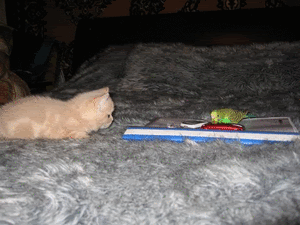 ABOVE: I apologise, it's a little too blur! See it in full perfect quality
here
!
Let me know what you think!
It's Earth Hour tonight, and I can't wait! It's gonna be a blast (half), and I hope I get to play with some fire tonight! In the form of candles, that is. To learn more about the Earh Hour (it's never too late!), view my previous 3 blog posts for more information! Sorry for the short post! Peace out! xx
And the quote...
Share